With wedding season in full bloom, there is a good chance that you've received at least a couple of save-the-dates and wedding invitations. Don't make picking out an outfit to wear to your friend or loved one's upcoming nuptials more complicated than necessary. While it may seem daunting — especially if there is a strict dress code to which you must adhere — there are plenty of wedding guest outfit ideas to suit any celebration without sacrificing your style. As long as your look doesn't outshine the bride's look, there is nothing to fear! 
Whether you are attending a simple backyard celebration or a full-scale fairytale wedding, the right outfit will make you look and feel amazing throughout the entire event. Read on to discover a few wedding guest outfit ideas, including dresses, jewelry and more. 
Bold and Blingy
Forget the standard rules of wedding guest attire and turn up rocking a bold, blingy look. Ditch pastels and traditional styles in favor of bright, vibrant colors and patterns. Go with a long dress featuring a colorful summertime print, or pair an eye-catching skirt with a solid-colored top for a slightly more traditional look. Either way, complete your look with women's gold chains and other iced-out accessories. 
The bold and blingy look isn't just for the ladies. Guys can rock this dope wedding attire, too. Show off some serious swag by pairing a black shirt and pants with a gold chain that's dripping with diamonds and a vibrant-yet-classy necktie or pocket square. Adding some gold grills is a solid option, too. 
'90s Flashback
It's no secret that the fashion of the 1990s has made a big comeback. For Gen Xers and older millennials, browsing today's biggest trends online and in stores feels a lot like shopping during their high school days — and it's pretty great. 
If you have totally embraced this fashion flashback, don't hesitate to incorporate it into your wedding guest attire. Wearing a simple slip dress is an excellent way to turn the style of your youth into a wedding-appropriate look. Pair it with some funky sandals and chunky jewelry for a laid-back look, or wear strappy heels and dainty jewelry for a timeless, sophisticated look that just might take you back to your high school prom. 
Guys, show off your '90s styling with a well-tailored blacked-out look. For a modern twist, pair a black tee with a well-tailored black jacket and pants. A black belt and dress shoes add the perfect finishing touches. 
Simple Sheath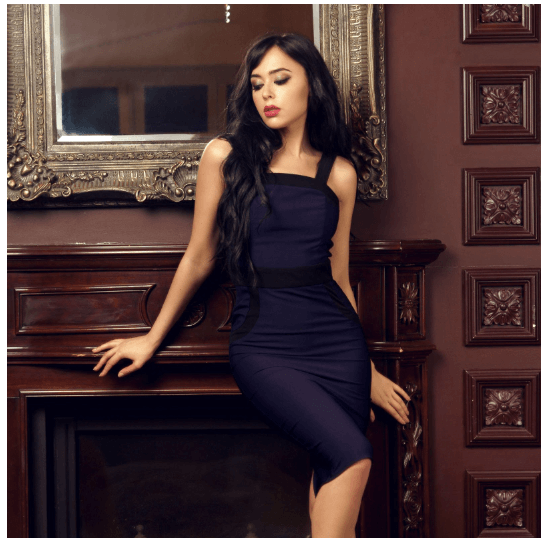 Do you have several weddings to attend this year? If so, save yourself some money by purchasing one dress that's suitable for every event on your calendar. A simple sheath dress is appropriate for nearly every venue and dress code. You can dress it up or down with your jewelry and footwear, and you can even make it suitable for all seasons with a few simple outfit modifications. 
Summer weddings are perfect for brightly colored sheath dresses paired with strappy heels or wedges. For fall and winter nuptials, add a wrap or elegant cardigan and swap your shoes for stylish ballet flats or boots.
Timeless Sophistication 
Whether you are attending a formal or black-tie wedding or you just prefer guest attire that exudes elegance and class, you can achieve a timeless look without looking like you found your outfit in the back of your grandmother's closet. 
When you're going for a sophisticated outfit appropriate for the fanciest of wedding celebrations, start with a floor-length gown. A cocktail dress is an option, too, but only if it's extremely formal and doesn't fall much above the knee. Modesty is usually your best bet when your goal is a sophisticated look. You definitely shouldn't choose a dress that makes you look like you're getting ready for a night at the club. 
Avoid white, cream and ivory when searching for a formal gown or cocktail dress. Wearing these colors is a huge wedding no-no because you never want to upstage the bride or be mistaken as a member of the wedding party. Pair your dress with sleek heels and an elegant clutch. Choose timeless jewelry pieces, like romantic chains, a tennis bracelet or some lovely pearl earrings.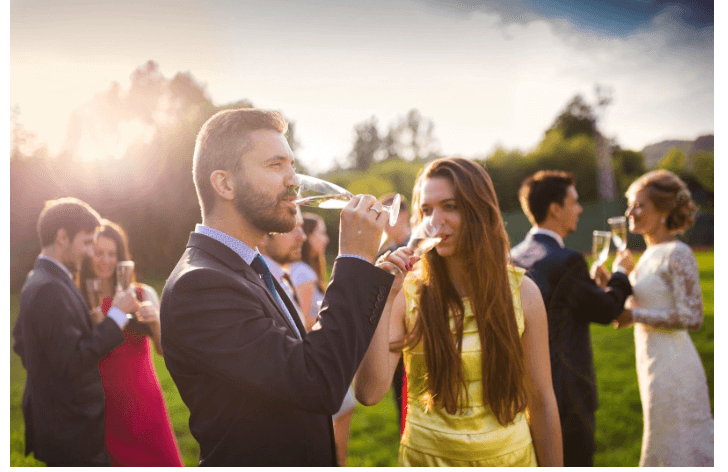 There aren't quite as many options for men when attending formal and black-tie weddings. A well-tailored suit is a must, but you can make the look more your own by adding some dope jewelry pieces, like rose gold chains. 
Formal Jumpsuit
If you're one of the many women who doesn't enjoy wearing dresses, consider donning a formal jumpsuit instead. A sleek, elegant jumpsuit is an excellent way to meet the dress code without sacrificing your comfort and forcing yourself too far out of your comfort zone. Be sure to choose one with an elevated fabric, such as silk, and classy details if you opt for this type of outfit.
There are loads of options from which to choose, whether you are attending a casual or formal event. 
Do you have trouble finding jumpsuits that fit properly or feel like they don't look "right" on you? Try an occasion suit instead. Suits featuring traditional formalwear colors, patterns and materials are a great place to start. And details like dramatic hemlines or a belted waist take your look to the next level. You'll enjoy the comfort of wearing pants instead of a dress or skirt, and you'll still be in compliance with nearly any dress code. Talk about a win-win! 
Conclusion
Deciding what to wear to a wedding can be tricky. It doesn't have to be overwhelmingly difficult, though. Always remember to keep your personal style in mind and choose pieces that suit both your preferences and the dress code. Experiment with any of the outfit ideas above to come up with an appropriate outfit for weddings of all types.