Fall is the perfect time to get out and about with your significant other. The cool weather lends itself to all sorts of date night possibilities, from cozy nights to outdoor adventures. And what better way to enjoy the season than by donning a stylish outfit that celebrates all things autumnal?
Never fear if you're stuck on what to wear for your next date night out! We've put together 10 cute and stylish outfit ideas that are perfect for any fall date night. So, whether you're headed out for a romantic dinner or a festive fall activity, you'll be sure to look your best in whatever activity you choose.
1. Hiking Date
The air is crisp and the leaves are changing, so why not take advantage of the weather and plan an evening hiking date? This type of date offers the perfect opportunity to don your cutest athleisure wear. Start with a cozy pair of high-waisted leggings and a sports bra or cropped tank top. Then, add a trendy windbreaker and some clean white sneakers. And don't forget to accessorize with a cute headband or baseball cap. You'll look stylish, comfortable, and ready for anything the day brings.
2. Dinner and a Movie
For a classic dinner and a movie date, try a look that is both comfortable and elevated. Start with a great pair of high-waisted jeans – we love a dark wash for fall – and add your favorite blouse or sweater. Then, throw on a chic faux fur coat to keep you warm. Finish the look with some strappy heels or ankle boots, and you're all set!
3. Pumpkin Picking
Pumpkin picking is one of the quintessential fall activities, and it makes for a great date, too! For this type of date, we recommend dressing in layers. A chunky sweater paired with a textured vest is a great way to stay warm while you're out in the pumpkin patch. Add a fun pair of booties and your favorite straight-leg jeans to complete the look. And for an extra-coordinated look, try choosing colors that pair well with the pumpkins, such as bold yellow, warm red, dark purple, or deep green.
4. Football Game
If you and your date are big football fans, why not head to a game? It's all about the sporty chic look for this date night activity. We recommend pairing a cute jersey or T-shirt with some distressed bootcut jeans or mid-rise denim shorts. Then, add a baseball cap and some sleek sneakers, and you're all set to root for your team!
5. Autumn Picnic
There's no better way to enjoy the fall season than packing a homemade dinner and heading outdoors. For this type of date night, we recommend keeping your outfit comfortable yet romantic. A casual sundress or jumpsuit paired with a denim jacket is the perfect combination of stylish and cozy. And don't forget to add some sandals – you'll want to be comfortable while enjoying the great outdoors! If it's a particularly chilly evening, add a flowy cardigan for some added warmth.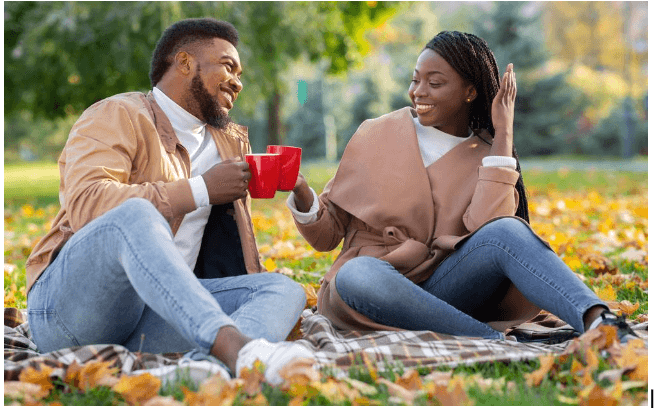 6. Sleigh Ride
A sleigh ride is the perfect fall activity for any couple. It's also a great opportunity to get all dressed up! Choose your favorite sundress or skirt, and pair it with a cozy oversized sweater or cardigan. Finish off the look with some stylish booties or riding boots to complete the look. And don't forget to bring along a blanket – you'll want to snuggle up close during the ride!
7. A Night Out on the Town
For a fun night out on the town, give some glamour a try. Pair a sequined top with a leather skirt or pants. Add a pair of women's shapewear underwear underneath the leather for a smooth, cinched look that's sure to turn heads. Then, add some heels and a clutch, and you're ready to hit the town! If you want to go for a more subdued style, try pairing a black dress with some velvet heels. Either way, you're sure to turn heads on your night out.
8. Just the Dessert Vibes
We love nothing more than going out just for dessert in the fall. What better way to enjoy your dessert than by dressing up for it? For a stylish autumnal dessert date with your sweetie, we recommend a pair of dark-wash flare jeans and a fitted long-sleeved top. Then, add some strappy sandals or flats. If it's a bit chilly out, add a textured jacket or structured cardigan to keep you warm.
9. Concert
Got tickets to a concert? Then you'll need a great outfit to go along with it! For a fun and flirty look, try pairing a crop top with a lace bra and high-waisted shorts or a skirt. Then, add some sneakers or booties and a denim jacket, and don't forget to accessorize with a chunky statement necklace or a bold pair of drop earrings. You're sure to rock out in style!
10. Fall Festival
Fall festivals are the perfect opportunity to enjoy all the best parts of the season. They also make for a great date! For this type of date, we recommend dressing in layers. Throw on a flannel shirt or turtleneck sweater over a casual dress in your favorite fall color. Then, add a textured vest or dark-wash denim jacket to keep you warm. Finally, tie it all together with a complementary pair of boots or booties and a beanie or scarf.
Final Thoughts
We hope you enjoyed these 10 cute, stylish date night outfit ideas for fall. No matter what your plans are, we're sure you'll find the perfect outfit here. The final look will be sure to wow your date.