A natural product that stands out for its regenerative, relaxing and anti-inflammatory function, perfect for taking care of your skin or avoiding insomnia.
Now that nature begins to form part of the habits of many people, we cannot ignore the benefits of lavender essential oil . Its fragrance does not go unnoticed or even wanting. In fact, lavender is one of the first essential oils for which it is recommended to start if you want to experiment with aromatherapy . If you still do not know the properties of using lavender in your day to day and how to do it, this is your time. Because if something transmits the lavender it is that freshness that inspires it transports us to a state of peace and relaxation .
But where does lavender come from? Like many other natural products, lavender is much closer than we think. Surely you have ever seen and touched it with that purple color that makes it so characteristic in the shape of a spike. The essential oil is obtained from its own flowers and is the one that allows us to later apply it in very different ways. But this is not a current discovery, since ancient civilizations used this plant through different procedures to take advantage of its therapeutic properties  and fragrance in natural perfumes and BIO cosmetic products.
Although lavender is one of the few essences that can be applied to the skin undiluted, it is advisable to combine a few drops of lavender together with essential oils, vegetables or clays. And, this essence enhances the effect of other oils with its single application. We recommend that you add a few drops of lavender to any natural treatment and this will improve not only its fragrance but also enhance the effect of other essential oils.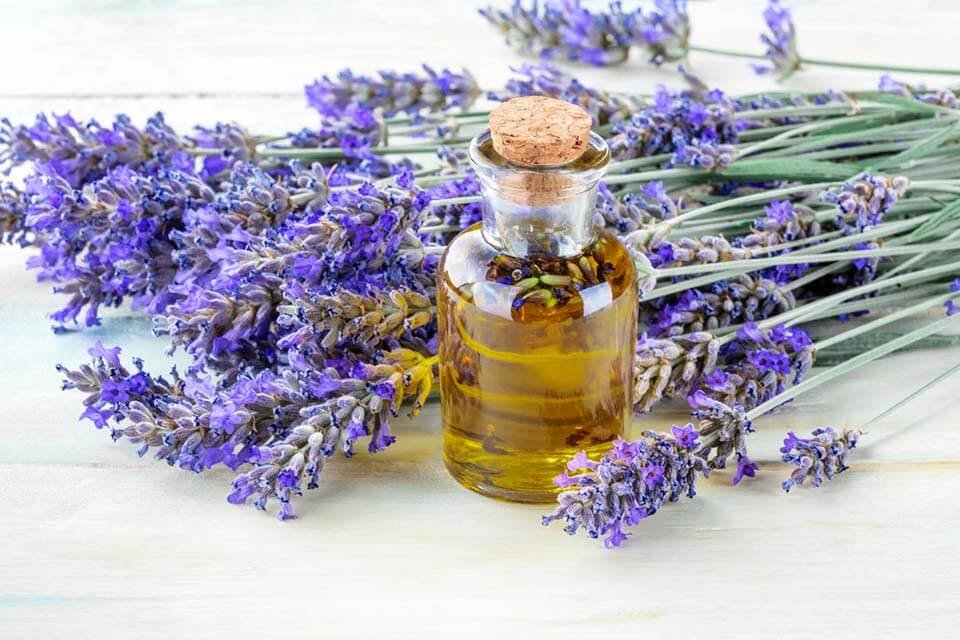 As we have already explained, lavender essential oil is one of the most recommended in aromatherapy for its freshness. Relaxing and calming properties are attributed to it . It is also a good ally when it comes to relaxing and sleeping better , among other qualities:
Antiseptic function

 : although it does not have the active characteristics of a chemical element, lavender essential oil is capable of fighting viruses and bacteria. From skin infections to bacterial problems like acne, dandruff, fungus, warts, etc …

Analgesic function

 : this oil has the ability to reduce pain and inflammation, especially when it comes to dermatological conditions, muscle pain or bruises.
The  

relaxing effect 

 of lavender oil is one of the best known. It can help us alleviate nervousness, depression or insomnia thanks to its sedative properties.

Lavender oil is perfect for its 

anti-inflammatory action

 . Along with the essential oil of tea tree and chamomile, lavender reduces and relieves any symptoms caused by infection, contusion or blood congestion.

Regenerative function

 : the essence of lavender helps to keep the skin in an optimal state and to regenerate any area damaged by burns, skin abnormalities, acne, dermatitis or premature aging.
The applications of lavender oil are numerous. For example you can use it as a supplement in the care of your skin. It helps in reducing wrinkles, acne, wounds and burns and even lavender essential oil has a powerful calming effect on any type of skin condition such as dermatitis or chicken pox.
Privately, for personal hygiene you can use a few drops of lavender if you want to take a relaxing bath . You can also use it as a deodorant replacing the traditional one with a mixture of vegetable oils adding a few drops of lavender essential oil.
In the case of flu, colds or mild bronchitis, it is advisable to do steam baths and inhalations with lavender essential oil . This natural treatment helps to cough up and relax the respiratory system. Another option is to add a few drops to a humidifier or pillow when we go to sleep. In fact, if you are one of those who find it difficult to sleep, placing a few drops of lavender on your pillow each night can help you relax and fall asleep.